BUCKHANNON – "I scream, you scream, we all scream for ice cream!" – but in this weather?
The answer is yes, plenty of people still enjoy ice cream when the temperatures drop, according to the owners of two local eateries primarily known for their cups, cones and candy-blended concoctions.
Sure, Buckhannon's downtown Dairy Queen closes its doors for the winter in October and doesn't reopen until March, but that doesn't stop some local ice cream lovers from seeking out frozen treats at two other hot spots known for frozen dairy delights.
Since ice cream sales generally slow in colder months, My Buckhannon recently talked to the owners of Brake's Dairy King and Sweet-A-Licious to find out how they stay afloat in the cold winter months when an ice cream cone sounds like a chilly idea.
Open year-round, Brake's Dairy King, located at 2A Clarksburg Road, just off the Buckhannon exit of U.S. Route 33.
Owner Chris Brake said the establishment has been happily serving ice cream for more than 20 years.
"We serve all of your favorite ice cream treats – vanilla and chocolate soft-serve all year round," Brake said. "We sell raspberry in the spring, summer and fall."
He said during the winter, ice cream sales slip about 75 percent.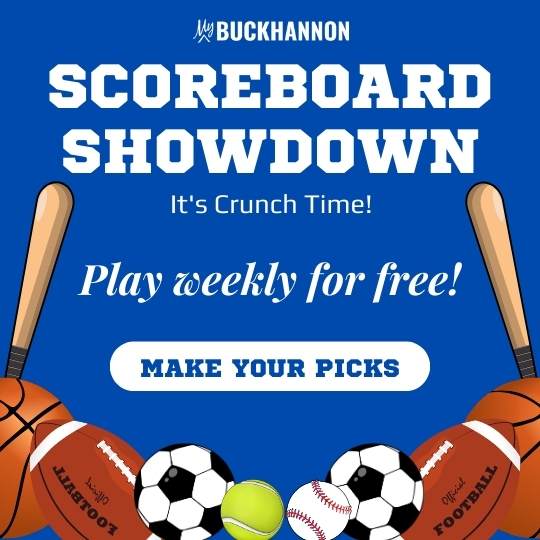 Brake said to offset the trend of people not venturing out as much to get ice cream in the winter time, Brake's Dairy King offers a full lunch menu, including six soups, lunch specials and grilled sandwiches on their homemade bread.
"We are located in probably the best community in the world to do what we do," Brake said.
People might not come to Brake's in colder months specifically to get ice cream, he explained, but if they happen to stop in for a meal, they might add dessert to their order.
"People eat ice cream in the winter time," Brake said, "but in the winter time, they take it home to eat it, they don't come out in the winter time to get ice cream. In summertime, we are lined to the door every evening. In winter, people eat ice cream here, but it is mostly dessert with lunch or when they come in for dinner. In winter, they are eating it because they are here, whereas in summer, folks come out to enjoy our ice cream."
Brake's Dairy King offers ice cream cones, milkshakes and Razzles, which are cups of ice cream with different flavors and candies blended through it. They have waffle cones, banana splits and parfaits – comprised of layers of fudge, ice cream and nuts – as well as strawberry shortcake and hot fudge cake.
"We don't skimp on our portions here," Brake said, laughing.
During the winter, Brake's Dairy King is open from 7 a.m. to 9 p.m. Monday through Saturday and on Sundays they are open from 2 to 9 p.m.
"We just started staying open later on Sundays," he said. "My girls need the opportunity to attend church on Sunday. I am glad I started that; it was something we needed to do. We have been very blessed in this community."
Brake said his Dairy King holds about 50 customers at a time, and he employs about eight to 10 people in the winter and around 15 in the summer.
"During the winter, our most popular item is an ice cream cone because folks can eat it quickly, and it doesn't make them as cold," he said. "There is a theory behind eating ice cream in the winter: it lowers your body temperature, which means the cold weather doesn't affect you as much when you go out in it because your [body] temperature is already closer to it.
"There is no medical backing to this theory," Brake joked.
But there's one piece of advice Brake hopes folks will heed.
"Ice cream is even better in the winter," he said. "It tastes even better in the winter time."
Brake's Dairy King is on Facebook, where they list their specials. They have a website at http://brakesdairyking.com and can be reached for additional information by calling 304-472-2337.
Sweet-A-Licious is located at 23 E. Main St. in Buckhannon and opened its doors on Oct. 6, 2017.
Owner Michelle Jack said she opened the hand-dipped ice cream shop as her retirement gig – even though she hasn't yet retired.
While the main treats at Sweet-A-Licious are ice cream-based, Jack said the shop has added more items to make up for the "dip in ice cream sales" in the winter months.
"We started out as an ice cream and ice cream-type treat locality," Jack explained. "We have ice cream, frozen drinks and milkshakes. We have 16 flavors of hand-scooped ice cream every day along with a sugar-free option. We offer treats such as banana splits. We also sell Italian Ice – it is dairy-free – which is really delicious."
They have Hershey's Premium and Gold Ice Cream that is hand-dipped. Jack said their biggest-selling ice cream flavors are Moose Tracks and Brown Butter Bourbon Truffle. Some of the runner-ups include chocolate and butter pecan.
Jack said soon after opening, they began to offer Mountain Roasters coffee – first selling hot Mountain Roasters coffee and then adding iced coffees in about 10 different flavors.
"We were expanding, which was a good thing to do. I don't want to be a restaurant, but people kept asking us for food, so we realized there was a need for a small food menu. We have hot dogs each day and offer a baked potato bar once a week. In fall and winter, we offer soup and we have a daily special that varies," Jack said.
Jack said the 2018 winter season wasn't too bad for the shop because "a big hype" surrounded Sweet-A-Licious' opening as a new ice cream parlor.
"This winter, I could sense early that our sales were going to slow," Jack said. "I wanted to add a few gift-type items to add to draw shoppers. We went with Swan Creek Candles, which my friends and I like. They are made in America and they are soy. I also added Gooseberry Patch Cookbooks. They have stories, craft ideas and recipes and are a really great cookbook. We also added Crazy Cool Threads, which is a Christian-based T-shirt line."
She said during the winter months, if business gets too slow, they will evaluate their winter hours and possibly close different days.
"Typically, everyone in Buckhannon is closed on Mondays, and we may have to close a few days during the slow season," Jack said. "We are trying to keep a low overhead. We are a family-based business."
Sweet-A-Licious also hosts private birthday parties and welcomes church and women's groups and scouting group parties. They sell ice cream and made-to-order cakes for all occasions.
"We appreciate everyone's support," Jack said. "Everyone loves us during the summer, but we want them to understand we need their support in the winter months, too, or we cannot be here in the summer."
Daily specials are located on the Sweet-A-Licious Facebook page. They also are on Instagram, and you can follow the shop by searching for @sweet.a.licious_.
"I am currently working with the technology department at Buckhannon-Upshur High School, and they are going to develop our website," Jack said.
Sweet-A-Licious is currently closed on Mondays. They are open from 11:30 a.m. to 7 p.m. on Tuesdays, Wednesdays and Thursdays. On Friday, they open from 11:30 a.m. to 8 p.m., and customers can swing by Saturday from 1 to 8 p.m. On Sunday, they are open from 1 to 7 p.m.
Those with questions may call 304-472-6189.
So, no matter how low the mercury drops, ice cream is a scream – during the summer and winter months as well.