TENNERTON – The Buckhannon-Upshur tennis Bucs hiked their record to 7-0 with a home victory over North Marion on Wednesday at the WVWC courts.
The Bucs swept the Huskies by a 7-0 score.
In doubles action, Aden Pitts and Caden Andrick bested David Darrah and Jessie Wade by an 8-2 score at No. 1, Mauricio Menendez and Hank Phillips beat Jordan Cox and John Bittinger by an 8-0 score at No. 2 and Bailey Cleavenger and Donovan Cutlip defeated Ayden Boyce and Malichi Stewart by an 8-1 score at No. 3.
The Bucs made quick work of the Huskies in singles action as Pitts won over Darrah (8-0) at No. 1, Andrick beat Wade (8-0) at No. 2, Menendez downed Cox (8-2) at No. 3 and Phillips defeated Bittinger (8-0) at No. 4.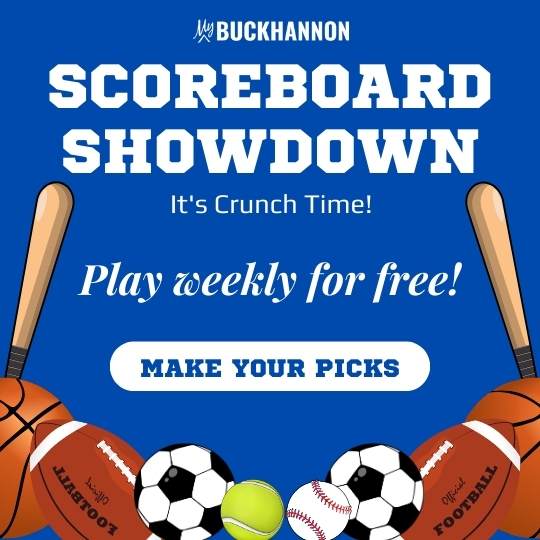 Buckhannon-Upshur head coach Jason Rock had high praise for his No. 3 doubles team of Cleavenger and Cutlip after the win.
"Bailey and Donovan played the best tennis I think they've played all year," stated Rock "It seems like they are starting to find their shots and working well together."
The North Marion contest was their only action of the week as weather wiped out all other outings for the Bucs.
Buckhannon-Upshur will be back in action Monday at home hosting Philip Barbour and Fairmont Senior and then on Tuesday they will meet Robert C. Byrd and Grafton at Robert C. Byrd High School.
The results:
Buckhannon-Upshur 7 North Marion 0
Singles
No. 1 – Aden Pitts (B-U) def. David Darrah (8-0)
No. 2 – Caden Andrick (B-U) def. Jessie Wade (8-0)
No. 3 – Mauricio Menendez (B-U) def. Jordan Cox (8-2)
No. 4 – Hank Phillips (B-U) def. John Bittinger (8-0)
Doubles
No. 1 – Pitts and Andrick (B-U) def. Darrah and Wade (8-2)
No. 2 – Menendez and Phillips (B-U) def. Cox and Bittinger (8-0)
No. 3 – Bailey Cleavenger and Donovan Cutlip (B-U) def. Ayden Boyce and Malichi Stewart (8-1)