#14 Notre Dame 41, West Virginia Wesleyan 0
BUCKHANNON, W.Va. — Notre Dame remained unbeaten with a 41-0 shutout win over West Virginia Wesleyan on Saturday afternoon at Cebe Ross Field.
Marvelle Ross returned two punts for a touchdown as the 14th-ranked Falcons improved to 8-0 on the year (8-0 MEC). Ross took the opening punt of the game 71 yards for the score, and then added a 74-yard return in the fourth quarter to lead NDC to the win.
Notre Dame held West Virginia Wesleyan (1-7, 1-6) to -5 yards rushing in the game and just 195 yards of total offense. Meanwhile, the Falcons had 325 yards on the ground and 458 yards of offense. Vasean Davis needed just nine carries to rack up 128 yards and had one touchdown. Jaleel McLaughlin carried the ball 16 times for 90 yards and had a score. Chris Brimm was 18-of-27 for 133 yard with one touchdown and one score. Markus Hood caught a TD pass for NDC.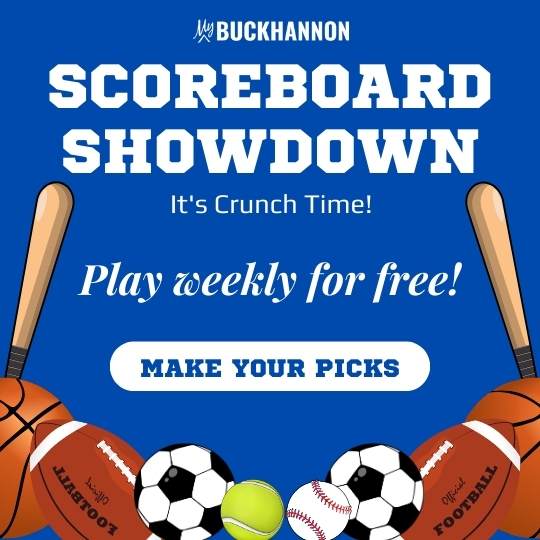 Curtis Collins had a team-best six tackles on the day, while RJ Goodwin had five stops, including two for a loss with a sack.
WVWC's Matt Vinson was 23-of-42 for 200 yards. Jujuan Linzy had nine catches for 72 yards. Robby Huddleston had a game-best 11 tackles, including two TFL.
Fairmont State 52, Glenville State 9

FAIRMONT, W.Va. — Fairmont State scored touchdowns on six of its first seven possessions as the Falcons rolled to a 52-9 win over Glenville State on Saturday afternoon in the "Battle for the Bit."
Takwan Crews-Naylor threw for 301 yards and four touchdowns to four different receivers to lead the Falcons (6-2, 5-2) to the win. Khalik Hamlin added 119 yards on the ground with a touchdown and Tyree Randolph added 53 yards rushing and had two touchdowns (one rushing, one receiving). Shawn Harris had three catches for 125 yards and one touchdown.
The FSU defense allowed just 10 first downs and 198 yards of total offense on the day. Jerry Iweh had four stops, including one for a loss, to lead FSU.
Jaylen McNair had 103 yards passing with one touchdown and one interception. J'Quan Anderson had 91 yards rushing. Samuel Thomas had game-high 13 tackles, including one for a loss, and Dom Cizauskas was in on 12 stops.
Shepherd 44, Urbana 21

URBANA, Ohio — Urbana went ahead early, but Shepherd scored 37 unanswered points on its way to a 44-21 win over Urbana on Saturday afternoon at UU Stadium.
With the win, Shepherd improved to 5-2 on the year (5-2 MEC). Urbana slipped to 4-4 overall and 4-3 in MEC play.
CeeJay Hale found Jesse Bray for a 74-yard touchdown pass on the third play of the game to put the Blue Knights up early, but Shepherd took control after that. Tyson Bagent had a rushing touchdown and another passing, Antwan Squire added a pair of rushing touchdowns and the Rams added a defensive touchdown during that stretch.
Squire finished the day with three rushing touchdowns and 132 yards on the ground. Bagent was 20-of-30 for 216 yards with a touchdown against two interceptions. Chrys Lane had a team-best eight tackles, including two for a loss with one sack.
Urbana's Hale completed 6-of-13 passes for 98 yards. Isaiah Young added 61 yards and a touchdown for the Blue Knights. DeArmon Lewis led the defensive effort with nine tackles and had an interception.
Charleston 24, UVa-Wise 10

CHARLESTON, W.Va. — Charleston trailed 10-0 after the first quarter, but rallied to score the game's next 24 points to earn the 24-10 win over UVa-Wise on Saturday afternoon at UC Stadium.
The Cavs (3-5, 3-5) scored a touchdown on its first posession and added a field goal the second time it had the ball to take the 10-0 lead. None of UVa-Wise's next seven drives lasted more than six plays with five ending in punts and two ending in turnovers.
Meanwhile, UC (5-3, 5-2) scored 17 points in the second quarter to take control of the game. Kevin Weiman hit a 33-yard field goal, and then Jimmy Wheeler scored on a 40-yard scamper and Mason Olszewski hit Michael Strachan from 22 yards out to cap the scoring. Olzewski would add an 81-yard touchdown pass on its first play in the third quarter allowing the UC defense to handle things from there.
Olszewski was 11-of-20 for 194 yards with two scores through the air. Wheeler finished with 148 yards rushing and the one touchdown. Gerron Fryer had two catches for 98 yards.
Kahzin Daniels had 1.5 sacks and seven tackles on the day for the Golden Eagles. Jonte Pooler broke up five passes, while Sam Quinn and Chris Turner each had interceptions.
Tanner Bernard was 20-of-31 for 150 yards with one touchdown against two interceptions. Donavan Montague had 14 total tackles to lead UVa-Wise on defense and Shavonta Timothy had 1.5 sacks for the Cavs.
West Liberty 36, West Virginia State 24

WEST LIBERTY, W.Va. — Zach Phillips had 128 yards through the air and another 101 yards on the ground to help lead West Liberty to a 36-24 win over West Virginia State on Saturday afternoon at West Family Stadium. West Liberty scored points on each of its first four possessions and held off the Yellow Jackets in the second half to pick up the win on Homecoming.
The Hilltoppers (3-5, 3-5) rolled up 278 yards on the ground led by Phillips (101), D.J. Frisby (95) and Charles Westbrook (61). The rushing attack allowed WLU to hold the ball for nearly 35 minutes.
Phillips was 11-of-19 through the air with a pair of touchdowns. Nine different players caught passes for the Hilltoppers. Owen Rozanc was a perfect 3-for-3 on field goals on the day to add key points for West Liberty.
Cliff Clark had 12 tackles (11 solo), including two for a loss to lead WLU on defense. Logan Deri made seven solo stops.
West Virginia State (4-4, 3-4) outgained West Liberty on the day, 441-412. However, the Yellow Jackets were called for 17 penalties totaling 158 yards. Faustino Salcedo was 21-of-36 for 281 yards with one touchdown. Calil Wilkins had 74 yards on the ground and Tyrell Henderson had six catches for 80 yards. Moises Valcarcel had 13 tackles (12 solo) to lead WVSU on defense, and Joe Stoneman had 12 total tackles and came up with an interception.
UNC Pembroke 48, Concord 34

PEMBROKE, N.C. — UNC Pembroke downed Concord, 48-34, on Saturday afternoon in non-conference action.
The Mountain Lions (1-7, 1-6) outgained the Braves (2-4) by a 459-378 margin and had more first downs (23-17), but gave up a kickoff return for a touchdown and were -2 on turnovers in the game.
Isaiah Bowman put Concord up 17-14 midway through the second quarter, but UNCP 28 unanswered points to seize control of the game. The Mountain Lions mounted a late rally to get within 10 with 2:30 left, but the Braves added a score to ice the game.
Adam Fulton was 12-of-16 for 131 with two touchdowns, and Kyle Akin was 9-of-15 for 160 yards with two touchdowns and one interception. Bowman had 77 yards on the ground and 43 yards receiving with one touchdown. Brandon Plyler had six catches for 112 yards and two TDs.
Zach Malone led the team defensively with 12 tackles.
UNCP's Josh Jones threw for 153 yards and two scores, and Joshua Dale had 83 yards through the air with two more touchdowns. Josh Sheridan rushed 16 times for 79 yards and one TD.
Tyler Hinton had nine tackles, including 4.5 for a loss, to lead the Braves on defense.
Story by the Mountain East Conference.