Note: Click here for photos from the regional swim meet.
When Cameron Zuliani steps onto the blocks in the WVU Natatorium on Thursday, she'll be staring down at the coveted middle lane, flanked on either side by the top swimmers in the state.
The West Virginia High School State Swim Meet will be held Thursday and Friday at the WVU Natatorium, one of the final events in the facility before it is replaced next year by a new Olympic sized 50-meter pool with more than double the seating for spectators.
But first, Zuliani will make two laps down the pool in what she hopes will be a gold medal time. The B-U freshman enters the state meet as the top qualifier in the ultra-competitive 50 free after winning the Region III Championship with a time of 25.21.
Zuliani is one of nine B-U swimmers who will compete in the championship meet. Statewide, 24 individuals and 18 relays qualified in each event. Buckhannon-Upshur is also taking two alternates to Morgantown.
Buccaneer head coach Will Squires is looking forward to seeing what his young team can do against the top talent in West Virginia.
"We are really hoping to have our relays qualify for at least consolation finals (7-12th) and possibly the 'A' Final (1-6th) for the girls relays," Squires said. "I am hopeful that we can also get some individuals coming back in the finals as well."
Squires said Zuliani is poised to make the finals in both her individual events, the 50 free and the 100 fly, where she is ranked fourth.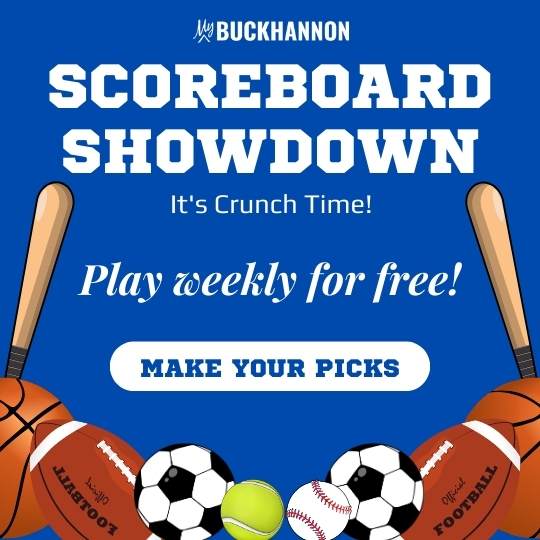 "As a freshman, she will definitely get some valuable experience regardless of her results," Squires said. "Overall, the team is only sending one senior (Drew Griffith) so we are very excited to have such a young team going and want to learn a lot from this opportunity."
The B-U girls state qualifiers (and their seedings):
200 IM – Jenn Williams (18th)
50 Free – Cameron Zuliani (first) and McKenzie Reynolds (20th)
100 Fly – Zuliani (fourth), Merrody Malone (24th)
100 Free – Reynolds (23rd)
100 Breaststroke – Williams (10th)
200 Free Relay – Johnna Smith, Williams, Reynolds and Zuliani (sixth)
400 Free Relay – Malone, Smith, Reynolds and Zuliani (16th)
The B-U boys state qualifiers:
200 Medley Relay – Dane Ammons, Sam Squires, Drew Griffith and Will Sparks (ninth)
50 Free – Squires (11th)
100 Fly – Griffith (22nd)
100 Back – Sparks (20th)
100 Breast – Squires (ninth)
Alternates: Emma Reger and Garrett Butler
Click here for the complete regional results.