BUCKHANNON, West Virginia – One West Virginia Wesleyan College Class of 2023 graduate battled cancer almost all of his four years en route to earning his Bachelor of Science in exercise science magna cum laude.
Khalil Smith '23, said, "When I received my diploma it felt like a dream come true after all that I had been through being able to walk across the stage as a college graduate was truly a blessing."
Smith, of Pittsburgh, Pennsylvania, was being recruited for football and had nearly committed to another school when he was invited to WVWC for a campus visit.
"It was a different atmosphere," he said. "When I came for my visit, I liked the people and that was a big factor in why I committed."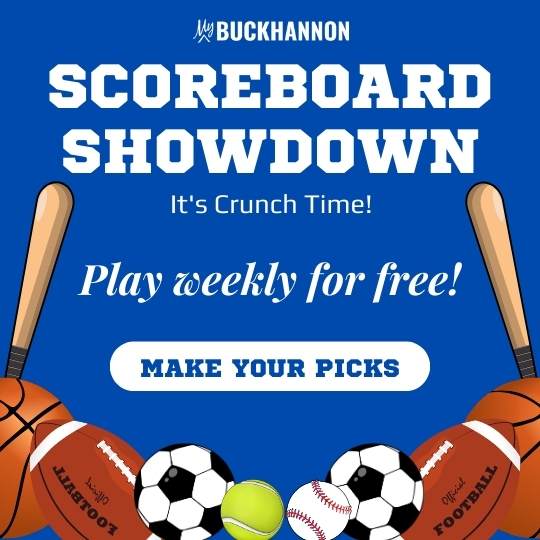 Smith reported to campus in August 2019 for football camp as a running back and began the academic year.
"Towards the end of the season, I started to get symptoms," he said. "I wasn't feeling good. I was a little more tired than I usually was."
Smith chalked it up to having a cold and the rigor of football, but it didn't go away. He began the season at 185 pounds and had reached 160 pounds at the end of the season, catching the attention of the football coaching staff.
But Smith powered through the end of the semester and returned to campus in the spring. Spring training was difficult for Smith who said he would feel like he was going to pass out during practices. Never one to give up, Smith kept pushing through.
When students were sent home in mid-March due to the COVID-19 pandemic, Smith's family noticed his continual weight loss and fatigue. By Mother's Day of 2020, Smith had lost a few more pounds within a
couple of weeks and his dad scheduled an appointment.
"They couldn't figure it out," he said. "My blood levels were lower than normal."
He was referred to a GI specialist who then sent him to the emergency room after it was discovered his blood levels had lowered from the previous day.
"I went into the emergency room and I never left from there," he said. "After my CT scan, they admitted me into my room and they made my dad leave. I had been in the hospital all day. About 9:30 or 10 p.m., the doctor came in and said you have three tumors in your body and that's why you were bleeding and walked out. I'm sitting there trying to process what he said. I called my dad."
The next few days would bring more tests. It would take five more days before Smith had a definitive diagnosis – stage 4 colon cancer.
"When I first heard that, I looked it up," he said. "It said there was a 50/50 survival rate. Dad looked it up and then we looked at each other and said that's not too good."
The team of doctors recommended surgery and then chemotherapy.
"My first surgery was May 26, 2020," he said. "It was an eight to 10-hour surgery."
Over the next few days, Smith recovered in the hospital rebuilding strength with a physical therapist who was impressed by Smith's speed at recovering.
"I started chemotherapy and they handed me a packet, maybe 10 to 20-page packet of side-effects from chemotherapy. I looked at my dad and said, "I wasn't going to let anyone tell me what I could or couldn't do. I never looked at the packet ever again."
Chemo started in June and lasted to Thanksgiving 2020.
"There were 12 rounds of chemotherapy," he said. "That was probably one of the tough things pumping poison throughout the body to kill the cancer that is in your body."
All through chemo, Smith continued working out, running two miles at 6 a.m. and on the days when he had chemo, walking five miles.
"After that surgery, I was 130 pounds. I was a shell of myself. I really wanted to put the weight back on, put muscle back on. I was 150-160 when I finished chemo treatments. My intentions were I was going to be able to come back and play football," he said. "I just wanted to be able to get back on the field and play football."
Smith underwent a second surgery in December and returned to campus in January 2021 when classes resumed.
He intended to come back in Fall 2021 to play football but in June 2021 his scan was not good.
"I got home and I didn't have a good feeling about it," he said. "A couple days go past and the doctor called me at 6 p.m. He said, 'Khalil, please call me back.' I didn't really want to. I eventually called him."
That is when Smith learned the cancer had returned for the second time.
"I thought, 'I had done everything they wanted,'" he said. "It didn't work. It knocks down your hope. I felt like I put a lot into it, just to get it all taken away from me."
"My doctor didn't want me to go to school at all," he said. "He wanted me to take the semester off."
But Smith said he wasn't ready to listen. He had a third surgery and started physical therapy.
"This time I already know the process," he said. "I have been here before. I know what to expect and I know what not to expect."
The surgery ended up being more intense then what he had previously, but Smith began treatment and started the fall semester on schedule.
"Nothing can stop me from what I want to do," he said. "The hardest part about all of this was letting people know my cancer had returned the second time. It was a crushing moment."
"The people that were watching my story and my journey, that no matter what happens you just have to keep pushing," he said.
"There were days I wasn't eating, drinking and I was basically sleeping for two days straight," he said. "It would take me a while to get back on my feet."
Smith finished the fall semester online, but returned to campus in Spring 2022. Every other week, Smith would have to return home for treatments which he finished in February.
Smith started working out again with the football team, then went home for a CT Scan. On March 16, 2022, Smith had a video call with his oncologist and heard the words that his tumor had returned.
"It crushed me," he said. "I got the news that day and I didn't really even want to tell anyone. How could this be happening a third time? I told my coaches first, but I wanted to wait for the right time to tell my team."
Smith couldn't tell the team until April.
Since then, Smith has had more surgery and continued treatment. With not being able to play on the field, Smith has found other ways to contribute to the team and on campus.
"I was known for being an athlete," he said. "Since that was taken away from me the last couple of years, it was like what can I do to make an impact?"
Smith has started a podcast and YouTube channel. He shares his story whenever he is asked and has been encouraged by how much support he has been shown. Last year, President James Moore presented Smith with the Inspiration Award.
"I got a standing ovation and I did not expect that at all," he said.
At this year's awards ceremony, Smith received the Sam Ross Scholar Athlete Award.
"I feel like I am leaving a mark at Wesleyan," he said.