TENNERTON – Buckhannon-Upshur head wrestling coach Jacob Orr has built the Buccaneer program into one of the top teams in the state, and there is no reason to believe that won't be the case again for Orr and his Bucs during the 2021-22 season.
The Bucs return seven wrestlers who made the state tournament last year, and with a potential full roster for dual matches and bigger tournaments, the sky is the limit for the Bucs this season.
Orr gives all the credit to the wrestlers for allowing the program to grow and find sustained success during his tenure as head coach.
"Our success is really built on the work the wrestlers have put in," said Orr. "I also think a lot of it has to do with our culture here. Success tends to breed success, and we have been having success here within the program. I think that it continues to build. We are pulling in a few extra kids here and there, and they see the success of the kids we have."
"They seem to fall in love with the sport and we get them to understand that the success we have had comes from hard work and dedication," Orr added. "Now, we have the older kids and leaders pulling those kids along and pushing them to be their best. When you have people pushing you to be the best you, good things will happen."
The Bucs, who placed third at regionals and seventh at the state tournament last year, had two regional champions in Breagan Pearson and Aidan Wilson. While Pearson graduated last year and is now competing at West Liberty University, Wilson, who finished fourth at states in the 113-pound division, returns for his senior season and will be one of many of the upperclassmen leading the 2021-2022 team.
The six other Bucs returning who competed at states with Wilson includes seniors Alex Bennett, Trevur Randolph, Tucker Hurst and Luke Bohnsack, junior Nathan Cornett and sophomore Liam Garcia.
"We will turn to all those guys to be our team leaders," commented Orr. "Our seniors and upperclassmen all know the routine. They know how we want to get from point A to point B, and that is by busting your hump. It's fun having that many seniors and upperclassmen on the roster that have had success and know what it takes to cross that finish line. Our dynamics are weird this year because we have a lot of seniors and then a big freshmen class as well."
Orr believes this is one of his deeper squads that he has had in a while.
"We have seven returning state qualifiers," noted Orr. "This is one of the most experienced squads I have had back. They were all chomping at the bit to get started this season."
Orr said that while things are always a little bit slower in the pre-season than how he likes them to go, he is pleased with what he has seen from his Bucs these first two weeks in the weight room and on the mat.
"Things are always slow at the beginning, but we are on the right track," noted Orr. "As the head guy though, I always want to get us to where we are a well-oiled machine. We do have a lot of young and new guys that didn't quite know our regimen yet. They hadn't gone through our practices. So we are breaking down things a little bit slower for them, but we when we do start rolling it will be a non-stop type of gig."
Orr currently has 21 on the preseason roster which should allow him to fill out a full roster for dual meets and tournaments.
"It takes 14 to fill the line-up, and I am pretty sure we will be able to fill every weight class depending on where guys fall at weight-wise," remarked Orr. "That is exciting. I think that is the first time we will be able to do that since I have been here."
The Bucs will compete once again in the highly contested Region 1 along with Bridgeport, Brooke, John Marshall, Morgantown, Preston, University and Wheeling Park.
"I think we are, in my opinion, in the toughest region in the state," said Orr. "We may not have the top team in the state, but the region is loaded. In the pre-season rankings, I think four of the top 10 teams in the state are from our region. From top to bottom, our region is a grind. I have always said iron sharpens iron, so for us to be the best, we have to compete with the best. We have a tough, competitive schedule this year. We will be put to the test this year against home high-caliber opponents."
The Bucs will start the preseason ranked sixth in Class AAA.
"I don't put much stock into anything pre-season but it is nice for the wrestlers to have that recognition," Orr said of the ranking.
Orr said his goal for the season is to simply have the program continue to grow.
"At the end of the day, if we do what we are supposed to do, and we go out and wrestle hard, that is all I can ask," he remarked. "We tell the team this all the time: 'I don't care if you get your hand raised at the end of the match. I care that you go out and do the things you have been coached to do and wrestle hard and tough. If you do those three things, you won't win them all, but you will get better at doing those three things. The wins will come.'"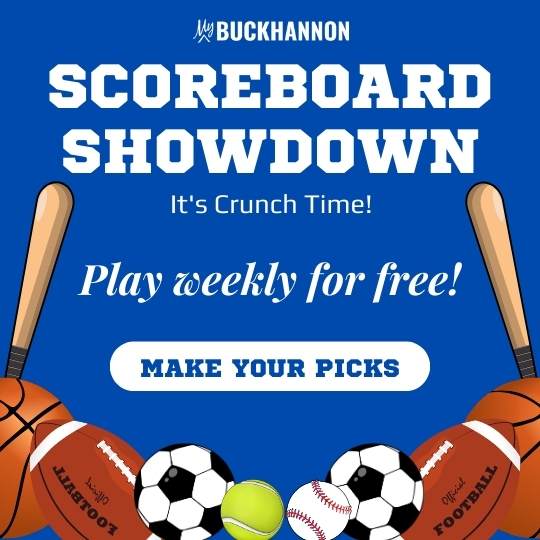 Orr stated his team is looking forward to get the season underway.
"I am excited for this team," concluded Orr. "They are working hard and are enthusiastic about getting started. When they are enthusiastic, they come to practice and have a good practice. Their mindset changes from 'I have to go to practice' to 'I get to go to practice'. All the sudden, you start to have a little more fun and you are enjoying yourself, and when you are enjoying yourself, you work harder. So that is the way we attack it."
The Bucs will begin their season Thursday, Dec. 2 at home in a dual outing with Lewis County.