TENNERTON – Imagine having to consider what kinds of pre-packaged soup taste good cold.
You might wonder why anyone would ever have to ponder that question.
Donnie Tackett, organizer of the growing Feed the Hungry backpack program, knows exactly why.
She and dozens of volunteers meet every Tuesday at 9 a.m. at Horizons Church in Tennerton to assemble packages of food for school-aged children in four county elementary schools – Tennerton, French Creek, Union and Buckhannon Academy elementary schools.
The kids can covertly bring the packs home with them, so they have enough food over the weekends.
The idea, as with most backpack programs, is to provide food to children who live in low-income homes, where parents, guardians or caretakers can't afford to supply them with nutritious meals on the days they're not in school – Saturdays and Sundays.
In some homes, caretakers may not have the money to buy healthy food, or perhaps parents work and can't afford to hire a babysitter or aren't around for other reasons.
That's why Tackett and her volunteers take a minute or two to think about what soups would taste relatively OK cold – for example, if there's not an adult around to help a young child use the microwave, Tackett explained last week.
"We try to put 11 items in one bag – 10 food items and one drink," she said, as volunteers packed the bags assembly-line style.
Each pack contains fruit and macaroni and cheese, Chef Boyardee and some kind of soup.
"They get oatmeal, they get Pop-Tarts, sometimes we have extra things like cookies in there because people donate all different kinds of stuff – as long as it's individually wrapped, and the soup and Chef Boyardee has to be pop-top," Tackett said. "We try to get the kind of soup that tastes that best cold because sometimes they're not able to heat it up on their own or microwave it sometimes, possibly.
"But all the kids we give to, they're just amazing individuals, and we don't want any of them to go hungry."
Tackett said volunteers hail from a variety of churches, and some don't even attend church at all.
"God put us here," she said. "Everyone goes to different churches, and some people don't go to church. Whoever wants to volunteer can volunteer, and we'll give them a job to do."
Tackett said the seed for the now-blossoming Feed the Hungry backpack program was planted in her heart six years ago.
"God told me – he spoke to my heart and said to feed the hungry in 2013, and I didn't know how to do that, so I started volunteering at the Parish House in their pantry," she said.
Some time after, Upshur Parish House director, Alicia Randolph Rapking, suggested Tackett start a backpack program.
Tackett said the group got its initial start in a much smaller location, but moved to Horizons Church in Tennerton when the program began to take off.
Most recently, Atlantic Coast Pipeline community liaison, Mike Cozad, has been assisting Tackett in recruiting new members. In addition, ACP donated $5,000 last Tuesday, Feb. 26, to the program for the purchase of food.
On Tuesday, Cozad said he thinks the program is one of the "most worthwhile causes you could be involved in."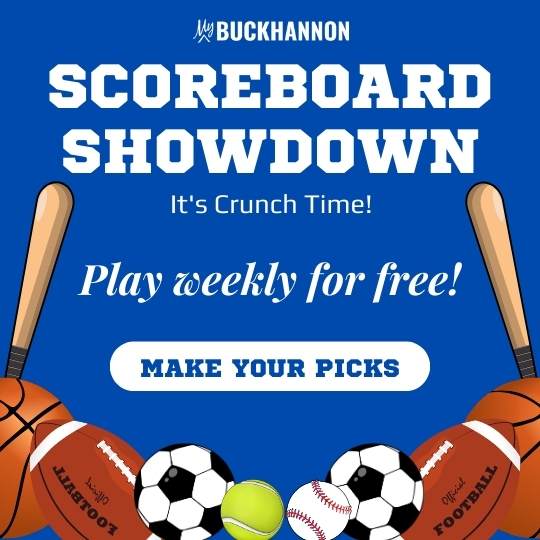 "I've really been encouraging Donnie to get out there and talk to different groups to recruit volunteers, so she can make this sustainable," Cozad said.
Dominion Energy spokesperson Samantha Norris, who also attended Tuesday's packing session, said she could tell Cozad had taken a special interest in the program since ACP officials had arrived in town to begin building the natural gas pipeline.
"Mike has really taken this project under his wing and has been a champion of it and has helped coordinate volunteers for Donnie," Norris told My Buckhannon. "I've talked to him multiple times on the phone, and he'd say, 'Oh, I'm just running to Walmart to pick up extra peanut butter to fill the bags for this weekend,' so there's a legacy that Mike and Donnie have worked together since we came to town.
"I like it because today you can see that it really does require a lot coordination," Norris added, motioning to the volunteers hard at work. "They have to go out and get the food and ensure it's packed correctly and distribute it."
And when they're finished with the packages, they pray over them, sending strength, health and well wishes to the children who'll eventually consume the food, Tackett said.
"We want God to oversee the process from the start to the finish," she said.
Anyone interested in volunteering with or donating to the Feed the Hungry backpack program should contact Tackett by calling her at 304-516-6432 or emailing fthbackpackprogram@gmail.com.