WHEELING – On Tuesday morning, Buckhannon-Upshur's Evan Coffman will embark on a two-day odyssey for the most coveted prize in high school golf, the West Virginia State High School Individual Championship.
Coffman will tee off Tuesday morning at 9:51 a.m. on the Jones Course at Oglebay Resort with Oak Hill's Jack Hayes, Parkersburg South's Parker Vannoy and Spring Mills' Angelina Duriez.
It will be the second appearance for Coffman at the state championship, and it's an opportunity that the senior isn't going to let pass him by.
Coffman — who was the Big 10 Conference "Golfer of the Year" and finished fourth at the Region I Tournament, just three strokes behind eventual winner Gavin Goodrich of Wheeling Park — wants to make his last high school showing a good one.
"My expectation for the state tournament is to go play to the best of my ability," Coffman told My Buckhannon. "I want to put up two solid rounds and finish strong enough to make All-State. I also want to represent Buckhannon-Upshur High School, my teammates and my coach and show what four years of hard work can produce."
Coffman, who was low medalist nine times this season, knows all about hard work as he was late to pick up the game compared to most of his peers, not playing a full 18-hole round until he was a Buccaneer freshman on the golf team.
"I attribute my success this year to lots of hard work over the past four years," Coffman remarked. "I started golf a little late compared to most of the other players. I specifically spent a lot of time on my game this off-season, working hard on my short game and continuing to take lessons with a coach."
Coffman also credited current Buckhannon-Upshur head coach Jason Westfall for his growth as a player from where he began as a freshman to his current standing.
"Coach Westfall is a great guy and he works wonders on the mental aspect of the game and helps all of us when we are under pressure," Coffman said. "He stepped up and started coaching my freshman year when there was no coach and the program was at risk of ending. He has also been there for me on and off the course."
Coffman is correct in saying there was little left to the golf team when he joined.
The Bucs were coming off a fabulous run that featured All-State golfer Christian McKisic, who earned low medalist honors at the 2016 state championships, but was in a full rebuild when Coffman showed up the following year.
Coffman's freshman season — Westfall's first year as head coach — consisted of a roster low in numbers with nothing but underclassmen on it, but Coffman, along with current fellow seniors Tucker Hurst, Isaac Lane and Landon Hitt, brought respectability back to the golf program in just three short years, returning to the state tournament last year.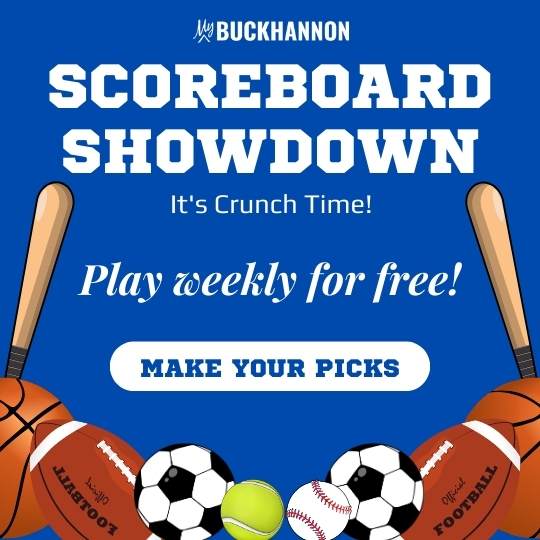 "Looking back to my freshman year, we were pretty green as a team," Coffman noted. "We were following in some pretty big footsteps at the time of the previous Buckhannon-Upshur golf teams. I feel that the entire team worked hard to improve and pushed each other."
Improve they did as they earned their trip to the state tournament in 2020 after finishing second in Region I behind Wheeling Park.
"Last year, placing second in regionals and qualifying as a team for states was a great achievement," Coffman said.
If Coffman has one regret as he prepares to tee off tomorrow, it's that his team couldn't join him after they failed to qualify for states, placing fifth at regionals this season.
"It was very disappointing to see the team not qualify for the state tournament," Coffman commented. "Golf is a tough sport and anyone can have a rough round any day, and unfortunately, regionals just wasn't our day. I wish that it wouldn't have happened on our senior year. My teammates have been really supportive of me and are going to Wheeling to play my practice round with me and show support. They are great group and I am glad to have spent the past four years with them."
While Coffman certainly has his eye on the present with the state tournament in front of him, he still has the future of Buckhannon-Upshur golf at heart as well.
"I am very excited to be competing in the state tournament for the second time," Coffman said. "Last year I had the benefit of having the team with me and I wish we had made it as a team as well this year. It's my senior year and I want to score as low as I can to be a good example for the underclassmen."
While this will be the last time Coffman plays golf in the Blue & White, he is hopeful he can take his game to the collegiate level.
"I would really like to play golf in college," Coffman said. "I have followed the scores from some local schools and feel that I could contribute to their programs. Also, since I started golf a little later, I feel that I have not peaked and will lower my scores with continued hard work. I plan to play tournaments next summer and hope to qualify again next summer for the West Virginia Open. It was an honor and very exciting to play there at my age."
While his time is coming to an end as a Buckhannon-Upshur golfer, Coffman said the memories he has made playing as a Buccaneer will last a lifetime.
"I will always remember that I developed the love of the game during my high school years," Coffman said. "The matches, practices and hanging out with my teammates will be memories that I will never forget."
Coffman said no matter how things turn out for him at Wheeling over the next few days, he wouldn't be where he is at without the support the community and his family have given him over the last four years.
"The athletic department at Buckhannon-Upshur High School and Coach Westfall have been supportive of me throughout my high school career," Coffman said. "I appreciate all of the support from the members of the Buckhannon Country Club, local friends who have let me use their cart and even golf simulators in their homes.  I also appreciate the support of my girlfriend, friends and family who understand the amount of time that is required to improve in the game of golf."
The two-day state tournament will conclude on Wednesday.