Upshur County residents should prepare for widespread power outages as wind gusts Sunday could reach 60 miles per hour, according to the National Weather Service's Charleston office.
The NWS issued a high wind warning Saturday that will be in effect from 10 a.m. Sunday to 7 a.m. Monday.
"Damaging winds will blow down trees and power lines," the warning reads. "Widespread power outages are expected. Travel will be difficult, especially for high profile vehicles."
Steady west winds of 20 to 30 mph are forecast, with gusts reaching 50 to 60 mph.
"A high wind warning means a hazardous high wind event is expected," according to the NWS. "Sustained wind speeds of at least 40 mph or gusts of 58 mph or more can lead to property damage."
Rain showers are expected Saturday evening into Sunday morning. The skies will then clear as temperatures plunge through the day.
The West Virginia Division of Homeland Security and Emergency Management, the West Virginia National Guard, and other West Virginia State Agencies continue to monitor the active weather system impacting the state this weekend.
The latest update from the National Weather Service in Charleston shows rainfall amounts less than predicted, although there remains a heavy rain and flooding threat through Sunday along creeks and streams in the lowlands and south of I-64. On Saturday night, thunderstorms with strong winds and possible power outages are predicted for the Western Lowlands.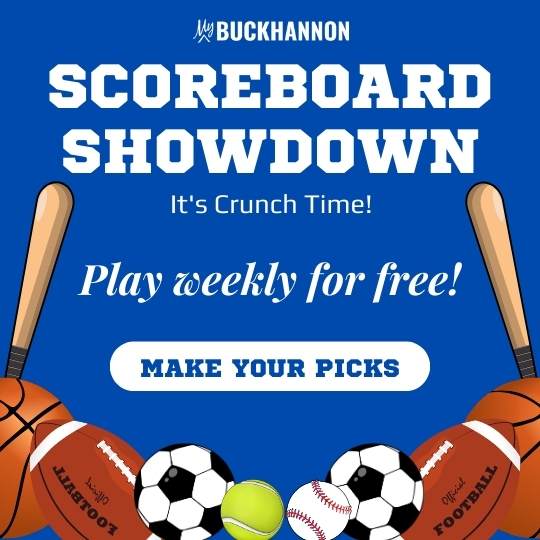 On Sunday, citizens are encouraged to prepare for possible power outages as strong wind gusts are predicted area-wide, especially across the highest elevations, into Sunday night. Winds gusts up to 45-50 mph are possible across the lowlands, with 50-60 mph gusts possible in the mountains. Some 70 mph gusts cannot be ruled out on the highest ridges in the northern mountains. The possibility of river flooding from the Ohio River into the Eastern Panhandle remains into early next week.
WVDHSEM, WVNG, and local emergency management agencies continue to monitor developing hazards and remain vigilant through this event. WVDHSEM remains in contact with county emergency management agencies and WVNG liaison officers are prepared to assist counties if needed. West Virginia Division of Highways (WVDOH) crews stand ready to support first responders. Drivers can stay up to date on the latest driving conditions and travel alerts by visiting www.wv511.org.
Citizens should continue to monitor their local weather situation via television, radio, and news outlets, the National Weather Service, and by following WVDHSEM on social media. WVDHSEM will be posting important safety messages this week as conditions develop to the WVDHSEM Facebook and Twitter pages at: https://www.facebook.com/WVDHSEM/ and https://twitter.com/WVDHSEM.
For the most up-to-date information on Watches, Warnings and Advisories for West Virginia, visit https://alerts.weather.gov/cap/wv.php?x=1.
For more information on how to prepare for winter weather, storms, and flooding: