FRENCH CREEK – Locks of Love — or LOL, as it's referred to by some — is an organization with a mission that's no laughing matter.
According to their website, Locks of Love accepts donations of human hair and money, which is used to make wigs and other hairpieces for Canadian and American children in need due to medical conditions that have caused them to permanently lose their hair.
The two most common conditions include cancer and alopecia areata.
The French Creek Elementary School community wanted to help out, as it does every year. So on Monday afternoon, students, staff and parents gathered at FCES to help make the lives of people affected by cancer and other medical conditions a little bit easier.
Four Upshur County students, one parent and three teachers donated 10 inches or more of their hair for Locks of Love, an activity the school has participated in for eight years in a row.
Locks of Love's beneficiaries are financially disadvantaged children, age 21 and under, suffering from long-term medical hair loss from any diagnosis, its website says.
Rebecca Hamner and Chelsie Jordan from Modern Hair Design on Tallmansville Road in Buckhannon came to FCES to trim the tresses being donated to Locks of Love.
"It's really important for me to do this project because I have family members who have dealt with cancer," organizer Jessica McQuain said. "They were able to find beautiful wigs. I wanted to bring it to the school. So, we have been doing this for the past eight years during October, which is National Breast Cancer Awareness Month. We want to celebrate the women we have, especially in our community, and to help women out."
McQuain is a third-grade instructor at FCES. She reminded those gathered that the students, teachers, parents and aides were not merely getting their hair cut; they were making a choice to have their hair cut so they could donate the hair to be made into wigs for people who are facing medical issues.
The wigs are given to people who do not have hair because of their disease or the treatments they are receiving.
FCES Principal Kasey Baisden said the annual Locks of Love event at the school each October is important to each and every student and staff member of the school.
"It is important that the students and teachers participate in this event," Baisden said. "It is a coming together for others. It gives the students a chance to be giving and caring and makes them aware of people who do not have things and helps them come together to provide that."
As the gathering began, pre-K student Lexi Carpenter made her way to the front of the gymnasium with her teacher Beth Johnston to have her cute curls snipped off to donate for others.
Johnston said she had been growing her hair out and planned on donating her pretty ponytail; she said her student, Lexi, came to school bright and early Monday morning determined to help, too.
"She came in this morning ready to go," Johnston said. Lexi added that she talked to her dad over the weekend and this was something she wanted to do.
"This is something I have wanted to do for a long time, but my hair doesn't grow very fast," Johnston said. "It has taken me five years of growing to get it long enough to get cut and donate."
Bella Tenney and Katie Samples are both in fourth grade at FCES, and both decided to donate their lovely locks to make wigs for others.
Bella said she is donating her hair that is beneath her shoulders.
"I have been growing it for a couple of years now," Bella said. "I want to donate my hair to people that have cancer and I feel sad for them."
Katie said she has been growing her hair out for a couple of years so she could make her donation as well.
"I am cutting my hair because it will go to those with cancer," Katie said. "I want them not to be so sad."
Katie said she enjoys attending FCES, noting her favorite class is math. She also enjoys spending time and talking with her school friends.
FCES speech therapist Adrienne McVey said donating to help those with cancer hits home with her.
"When I was in elementary school, my mother had breast cancer," McVey said. "Since then, I have had multiple grandparents as well as aunts and uncles with cancer. Giving back is very important to me."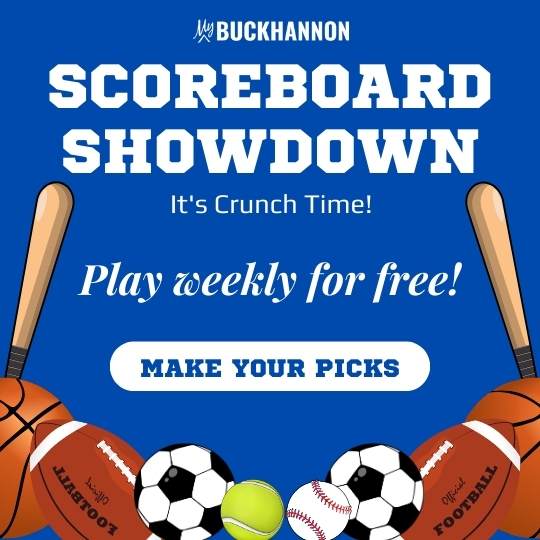 Buckhannon-Upshur High School Senior Kelly Sayre also donated her hair for Locks of Love on Monday at FCES.
"I lost my grandma to cancer when I was nine years old," Kelly said. "I have wanted to cut my hair for a very long time, but I am very attached to it. I never found a good enough reason to cut my hair until today – this is the reason."
Parent Kirston Lavis said she has FCES students in second grade and pre-K. She also donated her hair for Locks of Love.
"I have had multiple family members who have had cancer," Lavis said. "Recently, my grandmother was diagnosed with cancer. I told her I would grow my hair out and donate it to Locks of Love this year and that is what I am doing."
Thelma Norman, pre-K special needs aide at FCES, donated her hair as well for Locks of Love during Monday's gathering. Norman said she decided to donate her hair because she said it was for a good cause.
"It is good for the students to see everyone participate in this event," Norman said.
FCES Locks of Love organizer McQuain reminded everyone that they need to start growing their hair if they want to participate in the 2020 Locks of Love event.
Read more about Locks of Love's mission here.