BUCKHANNON – A local swimmer made a big splash at the 2019 YMCA Great Lakes Zone Championship in Ohio over the weekend.
Cadence Vincent, daughter of Eddie and Tracey Vincent of Buckhannon, has qualified to compete in three events at the National YMCA Short Course Championship in April. My Buckhannon dove right in to get the details Monday evening while Cadence was practicing with her coaches at the West Virginia Wesleyan College pool.
Cadence is a member of the Randolph Area YMCA Team, or the RAYS. Coaches include John Schmidt, Brendan Cain, Eric Anger and Tess Betler. Four swimmers from Buckhannon and six from Elkins competed in the zone — or regional — championship, but Cadence was the only RAYS member to qualify for nationals, which will be held in Greensboro, N.C. April 1-5.
"We have had other qualifiers for the nationals on the RAYS team in the past, but it has been a while," Schmidt told My Buckhannon. "We have never had a qualifying swimmer from this team who was as young as Cadence."
According to Schmidt, the U.S. is split into zones, and the Great Lakes region includes Indiana, Michigan, Ohio, Kentucky and West Virginia.
"This is a big deal," he said. "This past weekend, the weekend before and the two weeks of nationals require entry times – you can't just show up, you have to have certain qualifying times to participate. The highest and hardest cuts are those for the YMCA Nationals. It is based on how fast you are – not what your age is."
Cadence made the cutoff times for three events – the 100 freestyle, the 50 freestyle and the 100 backstroke.
"This weekend, she just missed the cut-off for the 200-backstroke by less than a second," Schmidt said. "She is quite an athlete – she is 13-years-old, in eighth grade, is a good kid and is fun to coach. She is very professional for her age – I don't have to get her fired up, she can do that on her own. You rarely find kids like this."
Tracey Vincent, Cadence's mom, said her daughter started swimming when she was 8 years old.
"We came to Wesleyan for swim lessons, and the first day here, she started at one end of the pool and advanced clear across," Vincent said. "That means she went through every level of the lessons in one day. My friends asked me if I had ever thought of putting Cadence on the swim team. I decided to look into it."
Cadence got her first taste of competition when she joined the Splashers with Tappan Squires. She later started swimming with the RAYS.
"Cadence has been swimming with the RAYS ever since," her mom said. "Each year, she has made it to the championships and to the zones. This year, her coach Eric Anger predicted she was going to break records and qualify for nationals."
Her young age was not the only barrier Cadence faced in qualifying for nationals.
"Her third national qualifying time she made this last weekend came after she was out all week with the flu," Vincent said. "She had to stay out of the water. On Friday she returned to the pool, and during the zone tournament, she qualified for her third event at nationals."
Cadence typically swims four to five days a week.
"This is where we live – here in the pool," Vincent said. "Going to the nationals will be very exciting."
Along with her accolades in swimming, Cadence is also a top runner on the Buckhannon-Upshur Middle School cross country team. She is a mid-distance runner on the track team and competes in high jump.
Academically, Cadence is vice president of the Junior National Honor Society and is an Asset Builder.
Cadence's hopes for competing in the national competition are modest.
"I want to have fun, make my coaches, parents and team members happy and I want to represent our small area of Buckhannon," Cadence said. "I want to drop time."
She is also excited about the opportunity to meet Nathan Adrian, a five-time Olympic gold medal swimmer who will be at nationals.
Coach Cain said Cadence is one of the hardest working swimmers he has ever seen.
"She is one of the most talented swimmers I have ever been around," Cain said. "I couldn't be any prouder of her to make this happen. I know she will do very well at nationals. She represents the Buckhannon area well – it's not very often a swimmer from this area makes it to this stage.
"She is very capable and I could not be prouder of her. The sky is the limit."
Coach Anger said Cadence's hard work is paying off.
"We are proud of her and she is a natural," Anger said. "We want her to keep getting better, and I know she will."
Riley Vincent, Cadence's younger sister, is also a swimmer. She said her sister inspires her.
"I hope she gets better times at the nationals," Riley said. "I am going to go down and help cheer her on."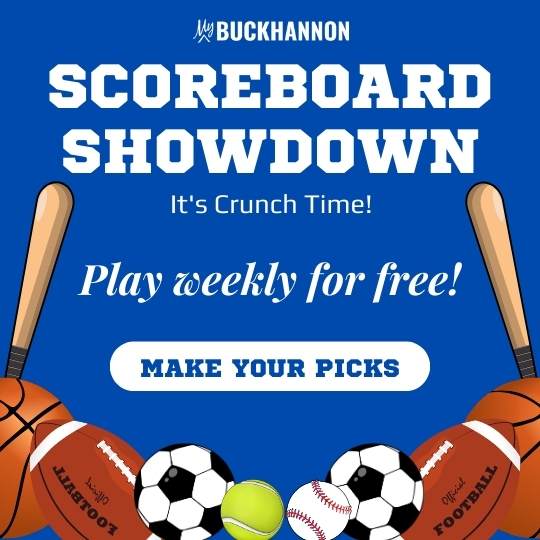 Those helping support the cost of Cadence's trip to the national championships include the Patrick Cain crew, Mike Ross Inc., Jenkins Ford, Tygart Valley Lions Club, Elkins Ford and Buckhannon Toyota.