BUCKHANNON – Talented students lit up the auditorium last Tuesday as the Upshur County Board of Education learned of accomplishments of some of its brightest stars. The joyful sounds of Beth O'Neill filled the air as she delivered a vocal performance of "The Star-Spangled Banner" to kick off Tuesday's meeting.
A 2021 graduate of Buckhannon-Upshur High School, Beth is the daughter of Thomas and Megan O'Neill who plans to attend Brigham Young University-Idaho in the fall where she will study music therapy.
Upshur County Schools Director of Wellness and Child Nutrition Eddie Vincent introduced Allison Andrew. Vincent said Allison attended STEM Camp and was one of 22 students selected to attend the Physics Inspiring the Next Generation, or PING, science camp this summer.
"PING, Investigating the Cosmos, is a collaboration between the National Society of Black Physicists and Green Bank Observatory and provides opportunities to explore physics and radio astronomy," Vincent said. "The PING STEMtastic Summer Program was held June 25 through July 3 and offered a fun, challenging camp experience for rising ninth- and 10th-grade girls."
Vincent said during the program, students worked in small teams supported by undergraduate student mentors and a staff scientist, astronomer, physicist and engineer to observe the universe with a robotic 20-meter diameter radio telescope.
"Supplemental educational activities included building electronic circuits and coding activities to complement the research theme," Vincent said.
Allison shared that she really enjoyed the PING experience and met many amazing and wonderful people at the STEM camp.
"Everyone was very helpful," Allison said. "My favorite thing was a fire lab where we changed the colors of the fire to green and red. It was a wonderful experience."
The next students to receive Upshur Stars were two Buckhannon-Upshur Middle School Students who attended the West Virginia Governor's Honor Academy. Vincent said it is normally a three-week course, but this year, part of the academy was completed online. Vincent said the two students were Seneca Howell and Harley Gillum.
"The Governor's Honor Academy creates a unique experience for a group of students and provides an intellectual atmosphere impossible to obtain in ordinary academic settings," Vincent said.
"We also had two Buckhannon-Upshur High School Students who got to go to Marshall University and spend some time there – Cameron Zuliani and Kayden Andrew."
Vincent said normally, the academy lasts three weeks at Marshall, but this year the time had been reduced.
Kayden said he and Cameron applied in March 2021 to the Governor's Academy, and they were both accepted.
"Basically, it was a two-week academy with the first week being held virtually," Kayden said. "The second week we went to Marshall University in Huntington, West Virginia and we were there with 100 other rising seniors. We took classes and got to do cool things."
Cameron said her favorite part was going to the Heritage Farm to hear a local storyteller who is the recipient of national awards.
"Our schedule was from 7:30 a.m. to 11 p.m.," Cameron said. "We got to see how college life will be and we got to live in the dorms. It definitely helped us prepare for next year when we will attend college."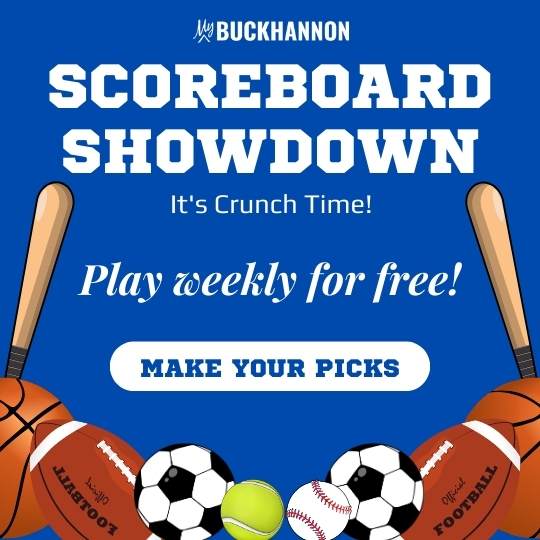 Vincent said Elizabeth O'Neill also attended the Governor's Honor Academy.
"I was supposed to attend last year when I was a rising senior, but things happened," Elizabeth said. "I was there in person for a week, and I learned so much from so many people. It was super fun. I became interested in math there overnight and it was a great time and awesome to be with similarly-minded people my own age."
Finally, Stankus bestowed Upshur Stars on FFA Advisors Joe Hymes and Allyson Lewis because Stankus said the teachers worked very hard to spur their students on to becoming state champions.
Lewis said they took advantage of the Summer Learning Academy and focused on training their Livestock Team.
"Typically, it is a team of four individuals who evaluate livestock," Lewis said. "They evaluate beef, sheep and hogs and they give a set of reasons for their evaluation, which is the most stressful part. Some of it was memorization, but some comes from being real life farmers."
Lewis said the seventh-place winner was Lana Cobb; the fifth-place winner was Isaac Kimble; the third-place winner was Kaitlyn Evans; and first place went to Emily Evans.
"We are super proud of our students," Lewis said.
Hymes said FFA started in 1928 in Kansas City, Missouri at a livestock judging contest.
"And 94 years later, we are still connected to livestock," Hymes said. "I think it is important to understand where we came from and where we are going. I am really proud of this entire group."
Hymes introduced the FFA group including Kaitlyn Evans, Emily Russell, Savanah Reed, Lana Cobb, Isaac Kimble and Emily Evans, saying, "I am proud of you guys."
Lana said the experience was wonderful, commenting, "Being able to go to my first FFA event and get hands on experience was such a learning opportunity. It was amazing and we came out on top. I am very excited for Nationals."
Kaitlyn said she was very thankful for her amazing advisors.
"This was an amazing experience, and I am so glad I got to do it," she said.
Savanah said her favorite part was getting to know people that like the same things she enjoys, while Isaac said during his first year in high school, he found the experience very exciting.
Finally, Emily Evans said the competition was stressful, "But overall, it was a very good, hands-on learning experience and it furthered my knowledge. It was an awesome thing to compete in," she added.