TENNERTON – The Buckhannon-Upshur soccer Lady Bucs entertained one of the top teams in the state on Monday in the No. 3 George Washington Patriots and earned a hard-fought 2-2 tie.
The Lady Bucs, ranked 15th in the state,  gave the Patriots all they wanted and more in the non-conference contest.
Ava Hollen gave the Lady Bucs a 1-0 lead in the eighth minute when she played a pass from Lexi Kelley and scored with a shot from 25 yards out over the head of George Washington keeper Madison Adkins.
Linsey Hackney tied the game for George Washington in the 26th minute with an unassisted goal.
The 1-1 score remained at the half.
Catherine Oliveto dribbled into the box and unleashed a shot that went off Adkins and she put in her own rebound in the 58th minute to give the Lady Bucs a 2-1 lead.
Angelina Musilli scored the game-tying goal in the 65th minute for George Washington with the assist going to Bella Cinco.
Neither team was able to get a go-ahead goal in the final 15 minutes of action.
The Lady Bucs were outshot by a 13-5 margin and trailed in corner kicks by a 5-3 count.
Buckhannon-Upshur keeper Kyndal Davis made 11 saves while Adkins stopped three shots for George Washington.
The tie left the Lady Bucs of head coach Jackie Zuliani with a 9-4-1 record.
They will return to action Thursday hosting Philip Barbour at 5:30 p.m.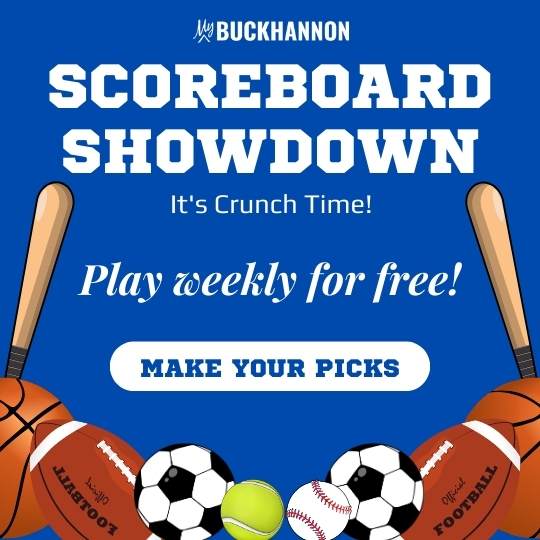 The game will be Senior Night for the Lady Bucs.
The boxscore:
George Washington 1  1 – 2
Buckhannon-Upshur 1  1 – 2
Scoring
Buckhannon-Upshur – Ava Hollen (Lexi Kelley assist), 8th minute
George Washington – Linsey Hackney (unassisted), 26th minute
Buckhannon-Upshur – Catherine Oliveto (unassisted), 58th minute
George Washington – Angelina Musilli (Bella Cinco assist), 65th minute
Shots-on-goal – George Washington 13: Buckhannon-Upshur 5.
Corner kick – George Washington 5: Buckhannon-Upshur 3.
Saves – George Washington: Madison Adkins 3; Buckhannon-Upshur: Kyndal Davis 11.