Editor's note: Due to the overwhelming number of former students who shared positive memories and reflections on Mr. Kimble's teaching with us, we were unable to include everyone's comments. We apologize and thank you for contributing.
BUCKHANNON – One of Buckhannon-Upshur High School's best-loved history, civics and AP psychology teachers educated students in Upshur County for 14 years.
Now, he will be offering his expertise to students in Bridgeport.
Brent Kimble said his last day at B-UHS was Tuesday Sept. 15, and he's now starting the next step of his career at Bridgeport High School.
"I grew up in Doddridge County, and I was not a Buckhannonite, but I was always enamored with the fact that this community adopted me. They embraced me from day one," Kimble said. "There was never a time where I didn't feel like I belonged, and that's what made this transition so difficult."
Kimble went to school in Morgantown, and the Bridgeport area became the intermediary between his hometown and school.
"I told my wife, 'I'll be there for a year or two, I'll get my feet wet, and then I'll leave and find something else and be close to the home,'" Kimble said. "Well, one year turned into five and five turned into 10 and 10 turned into 14 and it just never happened. I fell in love with that community, and there's is absolutely no ill feelings – a part of my heart will always be in Buckhannon."
However, life changes and he and his family were hoping he could be closer to home and the opportunity presented itself.
"What's happened to me in the last 11 years is, my daughter was born in 2009 and my son was born in late 2015," Kimble said. "Besides pouring my heart and putting all my energy into being a world-class teacher, I also want to be a world-class husband and a world-class father."
"What I realized, especially in the last couple of years, is it's really hard to be the world-class teacher and the world-class community advisor and a world-class everything in Buckhannon and also be that to my wife into my kids in the Bridgeport area," he added.
It was hard for him to leave the community he has grown so attached to, but when the job in Bridgeport became available, he said it was an obvious choice.
"When the time came, it was a no-brainer and it had absolutely nothing to do with anyone in Buckhannon," he said. "It had everything to do with the fact that this allows me to continue my profession that I love so dearly and also instead of coaching Buckhannon kids, I get to coach my kids instead. Instead of advising Buckhannon kids, it allows me to advise my kids. It allows me to be that person for them, and that's something they need and that's something I need."
Kimble has already started his new job at Bridgeport High School, and he said it has been a unique experience to start a new job in the middle of a pandemic.
"It's very different, but first off, I have to also give a shout-out to the faculty and staff of Bridgeport High School: They are one of the most welcoming, friendly faculties I have ever been a part of," Kimble said. "Making this change in the middle of a global pandemic has made it that much more interesting, so there's a learning curve there. Learning my kids and learning the expectations for high school and and Schoology and all types of technology that we're having to use for remote learning has been a process, but I am eternally grateful for the faculty and staff at Bridgeport for accepting me and embracing me."
Kimble will be teaching world history, civics and geography, all subjects he has previously taught at B-UHS.
"Of course, from a class standpoint, I love teaching modern history, I love teaching contemporary studies, because we get to talk about the here and now," Kimble said. "Kids always say they don't like history because they don't care about what happened 10,000 years ago. The great thing about contemporary was, it was the last 120 years, so I could apply it to literally things that were going on."
His other favorite subject to teach was AP Psych, a program he founded at B-UHS.
"My true love, which started in 2007, was the AP psychology program at B-U, which is one of the most successful AP programs that the high school has had to date," Kimble said. "In 2017, we really started to reinvigorate the dual-credit program there and, I taught dual-credit U.S. history for Pierpont Community and Technical College from 2017 to this past fall."
Kimble was also involved with several other school programs, including the Youth Leadership Association.
"Julie Conley was who really got it started at B-U and suckered me in 2007," Kimble said. "She took me to a Youth in Government conference. It was her and Duane Stoeckle, me and 16 kids," Kimble said. "I got hooked, and I spent the last 13 years building that organization up. This past spring prior to COVID, we had 103 kids scheduled to go to the Youth in Government conference. In 13 years, I've taken over 800 kids to the Youth in Government conference in downtown Charleston."
He and his teaching partner Alisa Lemley-Compton were also senior advisors.
"I would be remiss if I didn't give a shout out to Alisa Lemley-Compton because she was the Yin to my Yang," he said. "We were senior advisors, we had trips, and we had a graduation – that's a lot of work – and I also have to give all the credit to Mike Wilson. He's done a great job the last five years."
Kimble's love for sports also introduced him to B-U sports in more ways than one.
"I coached for 10 years, I coached girls' basketball for a year and loved every second of it, but my heart was driven towards football and I coached football for 10 years – three at the middle school and seven at the high school," Kimble said. "I thoroughly enjoyed every second of it, but I made a dark backroom deal with my wife that that when kid number two came along that I would that I would take a step back and hang up the whistle, and so in 2017, I did that after my son was born."
After he was finished coaching, Kimble transitioned to the Buccaneer Sports Network.
"Mike Donato and I are the ones who started Buccaneer Sports Network, which is the livestream media coverage of all things B-U, specifically B-U sports," Kimble said. "It's now our fifth year of BSN, and we've had over 100,000 devices connected into one of our broadcasts over the course the last five years. We started covering a baseball game one spring and now we do, on the average, close to 100 broadcasts a year from football, to boys' and girls' basketball, to baseball, to softball, to soccer, you name it, we've covered it."
'He was the one who really welcomed me'
B-UHS physical education teacher Mike Donato has worked in the county for 12 years and during the majority of that time, he has had a natural rapport with Kimble – at school and on the air.
"When I came up from the middle school, I had a little bit of apprehension – I was wondering if I'd made the right decision and it was overwhelming making that jump at first," Donato said. "I was considering even possibly taking my old job back because it was posted, but one of the first people that really accepted me and took me in and made me sure they made me feel comfortable was Brent."
Donato said he might not have stayed at the high school if it wasn't for Kimble.
"When I first came to high school, he was the one who really welcomed me and showed me around and ironically enough, we just kind of hit it off as really good friends and then best friends ever since," Donato said, "If it wasn't for him I'm not exactly sure I would have stayed in high school."
Donato also said he envied Kimble's ability to build relationships with his students.
"I wanted to know how I could get better in my teaching and get better in my field by building better relationships with my students because that was one thing that I was definitely envious of in his professional career: the fact he was able to build these close long-lasting relationships with students that I felt I was kind of lacking in my professional career," Donato said. "The students of Bridgeport are going to be gaining one of the best, not just for his knowledge but his willingness to do anything for his students and for the school as a whole, so it'll be a great fit."
When My Buckhannon posted a message on social media seeking out feedback from Kimble's prior students, previous students flooded our inbox with an overwhelming positive response, expressing how much they appreciated him and his teaching abilities.
Here is a sampling of the thoughts they shared:
Abbie Tomasula, 2017 B-UHS graduate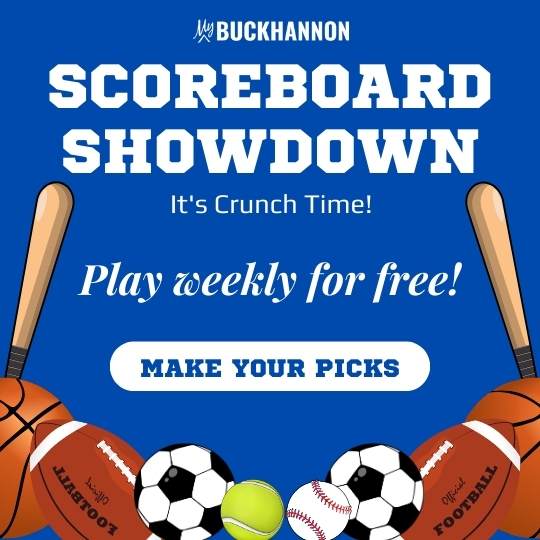 "I had Mr. Kimble when I was a junior in high school, and truly cannot put into words the impact he had on myself, his other students/athletes, and even students who were not lucky enough to have him for class," Abbie said. "Mr. Kimble would always greet you with a smile and genuinely ask how you were doing; everything that Mr. Kimble did was obviously genuine. I learned so much that year and did not realize because I thought that I was just having fun in Contemporary Studies!"
"Anyone could trust that Mr. Kimble was available if something was bothering a student, and he extended every helping hand that he possibly could," she added. "My favorite memory involving Mr. Kimble would have to be fourth-quarter bus duty! Mr. Kimble was an incredible asset to Buckhannon-Upshur High School, and Bridgeport is incredibly lucky to have him!"
Kelsey Luterek, 2013 B-UHS graduate
"He was the first teacher I had that treated us like humans rather than just students. That's always stuck with me," she said.
Ashley Kump, 2009 B-UHS graduate
"He was an assistant coach for our freshman girls' basketball team, and he was always encouraging and positive and made practice and games fun," Ashley said. "I had him for both history and AP psychology and in my opinion, he was one of the best teachers at B-UHS. I felt completely prepared for college psych classes after taking his class. You could tell that he had so much passion for teaching and truly enjoyed his job. He took time for his students and never missed a 'hello' as you passed his classroom in the hallway!"
"Even when I visited extracurricular activities at the high school after being away at college, he remembered my name and was genuinely interested in how I was doing," she said. "Brent Kimble is an all-around great person, teacher, and coach. I know he is a good family man, too, because anytime he would talk about his kids or wife, his face would light up with pride. He will be greatly missed by the community here in Buckhannon. I hope Bridgeport knows how lucky they are to have him!"
Caitlyn Wendling, 2020 B-UHS graduate
"He was the first teacher I had who I felt genuinely loved and cared about teaching itself," Caitlyn said. "You could tell he was about the kids and it was never just a job to him. It was his life and the dedication that he gave not only to the students, but to the school itself, just shined through everything he did and everything he taught. I feel like I learned more because I recognized his passion, and I admired it so much. He made things so easy to understand and if you didn't understand, you never had to feel bad for asking. He would stay after class, after school, anything that we needed it really was centered toward the students."
"He impacted me far more than I recognized and even now that I'm in college, I'm able to step back and realize that he did a lot more than I thought he did, so I just want to say thank you for everything," she said.
Anonymous former student
"As an LGBT student, school wasn't always glamorous or easy. Kimble's class was an open environment and he stated on the first day that he was accepting of all people, no matter the background," the former student wrote. "He just wanted us to learn and enjoy being there. I was pretty quiet in his class at the beginning but found my voice due to his open mind and unique teaching style. To this day, I speak of a few teachers that made a lasting impact on me, Kimble being one. He boosted my confidence to express my opinions but also listen to others."
A thank-you from Brent Kimble
Kimble said he wanted to share his gratitude with the Buckhannon-Upshur community.
"I want to thank Buckhannon and Upshur County for 14 absolutely wonderful years. That community molded me into the person, adult, father and educator that I've become, and I am forever indebted to that community, to that school, to that staff. I've got friends there that just mean the world to me and I am forever indebted," Kimble said.
"It does not matter what happens: There will always be a part of me that bleeds blue and white, and I'm forever grateful for the opportunity to work in Buckhannon for the last 14 years and if the time comes, that they need something from me, I would gratefully do anything that I could to help Buckhannon now."