TENNERTON — The 2018 Buccaneer seniors went out winners, beating Elkins 39-33 Friday night.
With the win, Buckhannon-Upshur High School claimed "the axe," a new trophy introduced this year to commemorate the rivalry with the Tigers, which is in its 97th year.
B-U improved to 5-5 on the year, while Elkins fell to 4-6. Neither team is expected to make the playoffs.
Jacob Loudin was the star of the night for the Buccaneers, scoring on a 70-yard reception and a 7-yard option play. He also was a monster on defense, making two key interceptions and returning a fumble for a touchdown.
"[Loudin's] a great athlete, and he really did a great job for us tonight," B-U head coach Duane Stoeckle said after the game.
Senior Dash Davis also put on a show in his final game, rumbling to 154 yards on 10 carries. Quarterback Ryan Strader was 4-for-9 for 118 yards and two touchdowns as the Bucs put up 334 yards of total offense.
The Tigers actually compiled more offense, grinding out 272 yards rushing on 45 carries and adding another 143 yards in the air for a total offensive output of 415 yards. But when it came to the one stat that matters most – points – they came up a touchdown short.
Borgie Tenney got the start at quarterback on senior night for the Bucs.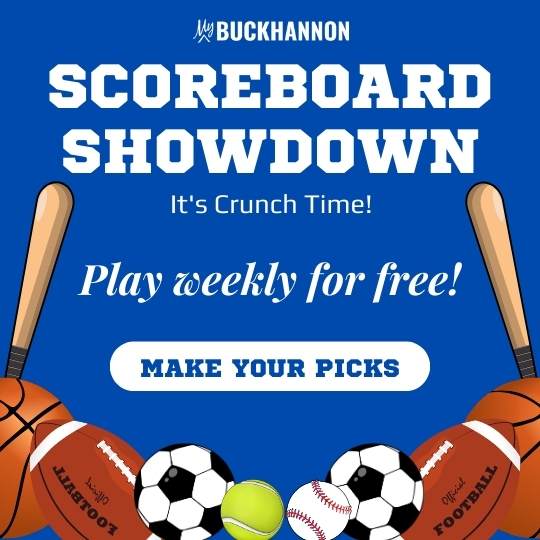 "It's senior night, and we wanted to get him the start," Stoeckle said. "He did some nice things and got us going. This year he's had a great season; he's really played every position except offensive line for us."
Davis opened up the scoring for the night, charging up the middle and breaking free on a 45-yard touchdown to give B-U a 6-0 lead early in the first quarter.
Elkins came back and scored on their next drive to go in front 7-6. That was their last lead of the night, however, as Loudin scampered away on a 70-yard touchdown on the ensuing B-U possession.
The Tigers fumbled on the next drive, and Loudin scooped it up and romped 38 yards into the endzone.
The Bucs would score one more time in the first half. Tenney's 7-yard TD run was called back for a penalty, but Strader hit Rondo Caesar for a 12-yard pass on the next play and the Bucs went up 25-7.
Elkins had some fight left in them though and put together a solid drive to end the half, scoring on a 16-yard pass as time expired to cut Buckhannon-Upshur's lead to 25-14 heading into intermission.
The Tigers scored on an 11-play, 69-yard drive to tighten things up at 25-20 to start the second half.
B-U turned the ball over on downs on their next possession, and just as Elkins was beginning to build up some momentum, Loudin stormed back on defense, coming up with a huge interception and then taking a pitch 7 yards to give B-U a 32-20 lead.
That's how things would stand until about 5 minutes left in the game, when Davis would score his second TD of the game to put the Bucs up 39-20.
The drama wasn't over yet, however, as the Tigers clawed back again, scoring and then recovering a Strader fumble and punching the ball in to cut the Buccaneer lead to a single score.
But B-U recovered the onsides kick and took a knee to run out the clock.
"I'm excited for the senior class, because they've really been a good group," Stoeckle said as the team celebrated the victory. "We had 15 seniors. Most of them had been with us all four years, and you really get to know them, and I really did enjoy coaching this senior class as a group. It's been a lot of fun, and we're going to miss them. I'm glad to send them out on a win.
"I wish them the best of luck as they go on to their futures, and we'll always be here for them. They're blue and white forever."