TENNERTON – "Konnichiwa!"
Members of the Anime Club say good afternoon and invite you to join with them as they learn more about Japanese culture during their gatherings, which are slated to take place at the Upshur County Public Library each Thursday at 5:30 p.m. beginning Jan. 17.
Jon Benjamin, who is a professor of graphic design at West Virginia Wesleyan College, heads up the Anime Club. Benjamin has lived here with his wife, Abigail, and seven children for nearly two years.
Before coming to Buckhannon, he was a professional graphic designer for 15 years.
"We lived in D.C. and Martinsburg," he said. "My wife grew up here, and it reminds me of the place I grew up in upstate New York. It's a delightful place to live."
He said when his family lived in Martinsburg, the librarians loved Anime – a style of Japanese film and television animation.
"One of the librarians started an Anime Club, and my kids and I loved it," Benjamin said. "We watched Anime on our own. I used to watch Robotech when I was a child. When we came here to Buckhannon, there was not an Anime Club, so we decided to start one."
He said the group has been meeting for more than a year. Most of the attendees are middle-schooled aged students, but he said the club is not limited to that age group.
"We try to incorporate discussions about how different Anime is and how Japanese culture differs from American television and cartoons," Benjamin said. "I think that is one of the most fun things about it. We also do film criticism and discussion about characters, plot, story development and things like that."
He said occasionally the club introduces certain aspects of Japanese culture, including food.
"One week we had sushi and coming up soon, we are going to talk about Japanese candy," he said. "They have a whole different look on candy than we do in America. They love Kit Kats over there, and they have a whole array of Kit Kats. We only have one, but they offer [different] flavors of Kit Kats like ginseng. It's green."
Benjamin said the club members also enjoy playing Anime board games, listening to the soundtracks and trying their hands at drawing Anime characters.
"We have board games we play," he said. "Some of the kids have soundtracks for the films, too. In Japan, if you want to be a popular musician, you know you have made it if you do a soundtrack for Anime. It's really, really big over there. When you watch the films, the music is really, really good."
The Upshur County Library has a growing Manga collection. Manga typically references comics originally published in Japan.
"We have been trying to ramp up the Manga pieces are available here at the library," Benjamin said.
Benjamin said he thinks the Anime Club enhances the students' day-to-day learning.
"For me and my kids, we love all things Japanese," he said. "I think it is a way of expanding our minds about different cultures. All the way around the globe, there is this other country, but we are really similar. There are elements that make it its own, and I think that is the best part about it – opening their minds to other cultures."
Benjamin said Anime is essentially Japanese animation.
"At first, they had Manga, which basically is a Japanese comic book," he explained. "When they started making the animation, it was first called Animanga. Then it was shortened to Anime."
He said many animated films and television shows that are popular are all based on Japanese culture.
"What the group is watching tonight is 'Studio Ghibli' and it is like the 'Disney of the East,'" Benjamin said.
Benjamin said the films are rooted in Japanese culture, adding that Pokémon and Dragon Ball Z are very popular.
"They are based on the real place and the real people who live in Japan, but then there is this strange Shinto spirituality, and strange occurrences that are fictional, but in a real place in Tokyo," Benjamin said.
Currently, the Anime Club has about 10 members and is looking for others to join their group. There is no cost associated with membership, and meetings last approximately one hour. Parents are welcome to stay during the meetings, but that is not required.
"We are looking for new members," Benjamin said. "We have a really great group here – good camaraderie, and anybody who loves Anime or is interested is invited to join our group."
Anime Club member Hanna Benjamin, 15, said she enjoys the group because she gets the opportunity to share her ideas with other group members.
"We enjoy talking with each other about Anime and point out details that are going on in the background," she said. "This group has helped me make friends and meet new people. It's pretty rad!"
Member Maria Benjamin, 11, is homeschooled. She said she likes the Anime Club because of the people who attend the meetings.
"We have talks about the movies we watch, and it helps me get the gist of the Anime," she said. "I like all of the people here in the group. I hope more people join."
Rhianna Stimson, 17, is homeschooled as well. She said she likes being part of the Anime Club because she feels it enables her to connect with peers and make new friends.
"I heard that Jon had started the Anime Club, and I thought that would be good for me," Rhianna said. "I was suffering from social anxiety, and this was my chance to come and connect and make new friends."
Rhianna said she likes one particular Anime character because he is intelligent and knows how to get people to confess and deliver justice.
"This club is very fun and is very inviting to anybody – we want to help people grow and enjoy something."
Ryan Dowell, 14, attends Buckhannon-Upshur Middle School; he said he enjoys coming to make new friends.
"It's a lot of fun," Ryan said. "I come to the library to check out books and that's how I saw the ad for the Anime Club and thought it would be fun, and it is. Come here and join us."
Jake Stout, 12, said he joined the club after he saw their Facebook page.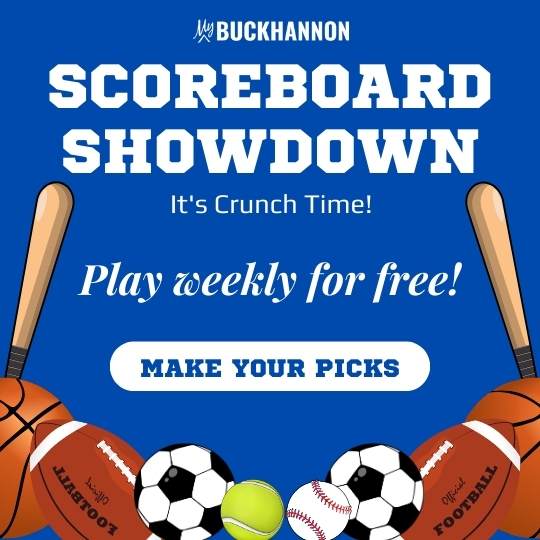 "I was really nervous to come, but it turns out, I really enjoyed it and met some really nice people," Jake said. "Even if you don't like Anime, I think you should come and join and meet new people. If you like Anime, it's even better."
Upshur County Public Library Director Paul Norko said the library is excited to host the Anime Club.
"It gives teens another activity to do that they are interested in doing," Norko said. "A lot of the staff was kind of hesitant because they are not familiar with Anime, but it is very popular with the teens and tweens. It brings the teens into the library, and that is something I wanted to do.
"The library is about life-long learning – before we had the Anime Club, we had reading for kids age birth to five, but not much after that and Anime offers something for the teens and tweens," he added.
Norko said the club serves as a prelude to the library's upcoming summer programs which will be aimed at all ages.
"We will have events for younger children, tweens, teens and maybe adults," he said.