BUCKHANNON – Buckhannon's local pageant director will take his final bow during this weekend's Miss USA and Miss Teen USA West Virginia pageants.
State pageant director Randy Sanders recently announced that he would retire from producing and directing pageants after the 2023 Miss USA and Miss Teen USA pageant season.
"I turned 65 a week or so ago, and I just want to slow down a little bit; I feel good, I'm in good health, but I want to enjoy some other things, and I want to focus on being the city recorder and information coordinator for Buckhannon," Sanders said. "That is something I can do full time, and with what I do now with the pageant and with WAMSB, I work evenings, all weekends, I get up early, and I never complain because it's what I wanted to do."
Sanders said now, though, he wants to relax and take in the present moment.
"Now, I want to sit on my deck, have friends over, visit with people and do a little traveling," he said. "I just want to go enjoy things, and I'm really, really looking forward to it. I have no reservations; it's the right choice."
Sanders began a company called 'Sanders and Associates Inc,' in 1996 when he began directing pageants for Miss USA.
"I was working for a production company in Pennsylvania full-time for nine years, producing their pageants," Sanders said. "In 1996, I was awarded the license to produce the Miss New York USA and Miss New York Teen USA pageants, which were the preliminaries to Miss USA and Miss Teen USA, so I established a company called Sanders and Associates Inc."
After establishing his company, he began developing his team that would help produce pageants in several states.
"I learned it took a lot of people to make a production like this, so I built a group of associates from around the country who would come together for different events," Sanders said. "At one point, I was producing five state pageants a year for the Miss Universe Organization. I was producing in Connecticut, Indiana, Pennsylvania, Vermont and West Virginia, so our team would come together five times a year."
Sanders said it can be hard to fathom how much work goes into a single pageant and how long the process can be.
"Once we had the pageant and we crowned the winners, then we start working on their preparations for the Miss USA pageant and the Miss Teen USA pageant, which, again, was a full-time job," Sanders said. "It has been an exhilarating career. I can't believe I stumbled into this career back in the '70s when I just started volunteering, and then in 1987, I went to work full-time in the pageant business, and I've made a career out of working in pageantry."
His first experience with pageantry was right here in Buckhannon during the West Virginia Strawberry Festival.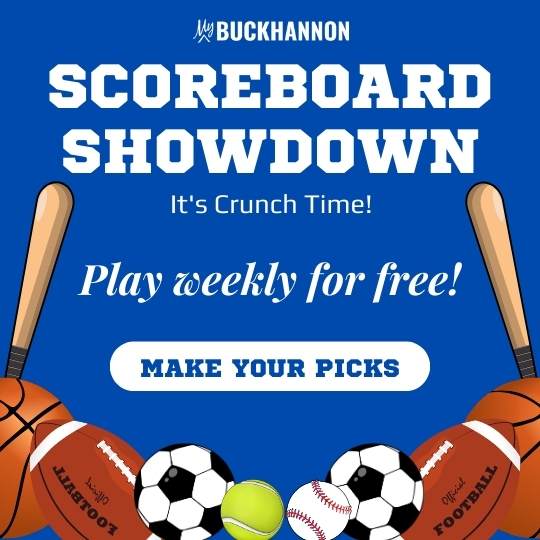 "I was born and raised in Rock Cave and lived in Buckhannon," Sanders said. "I loved everything about radio and television and would visit radio stations as a little kid. I always wanted to be in some sort of entertainment, and it just so happens I had the opportunity to help with the West Virginia Strawberry Festival pageant one year, just running errands, that's all I was doing."
"I just fell in love with the fact you can start with this empty auditorium and transform it into a theater," he continued. "I fell in love with that, and I knew that's what I wanted to do; one way or another, I wanted to produce live events."
Producing these events took Sanders across the U.S. and to other countries.
"I was working with up to 35 pageants a year when I was just doing it as a freelancer, and then when I went full-time, I began to meet the folks involved with the Miss Universe Organization," Sanders said. "I went to the Miss Universe pageant in Trinidad and Tobago, representing the United States, and I had a winner that went there."
"I also had a winner that went to Moscow, Russia because Miss Connecticut USA was representing the USA in Moscow for the Miss Universe pageant, and every year I would think, 'it can't get any better than this,' and the next year, there'd be another opportunity," he said.
Eventually, Sanders was called back home to Buckhannon, West Virginia and he couldn't stand to leave again.
"My mother started getting a bit older and having health problems, so I started spending more time in Buckhannon, and I reconnected and decided this is where I belong," Sanders said. "I sold my properties in Pennsylvania, moved back to Buckhannon, and I have never regretted it. This is the best move I could make, and this is where I plan to stay."
When he moved back to Buckhannon, he was still producing shows for the Pennsylvania, Indiana and West Virginia Miss USA and Miss Teen USA pageants.
"Eventually, I got involved with the city, became the city recorder, and that's really a full-time job in itself, so I spoke with the Miss Universe Organization and gave up Pennsylvania and Indiana, but I wanted to keep West Virginia," Sanders said. "I wanted to move the production to Buckhannon to promote my city, and they were very gracious to work with me with that proposal, so ever since then, I've been producing the pageant here."
While Sanders may not be running the show for the Miss Universe organization anymore, he hopes to continue bringing new events to Buckhannon.
"I'm not going to say that I want to bring in big events like WAMSB (World Association of Marching Show Bands championship) all the time, but I want to continue bringing in events that fit well within our structure, that complement the city and create overnight stays to help our hotel industry and help our restaurant industry and our tourism," Sanders said. "We have a great new CVB director, Lacy Ramsey, who's helping with that goal. I do want to bring more live events to Buckhannon of different shapes, sizes and forms – anything fun."
His last bow with Miss USA and Miss Teen USA, West Virginia, will take place begin June 3-4 at the Virginia Thomas Law Center for the Performing Arts on West Virginia Wesleyan's campus.
"The president of Miss Universe Organization arrives in Pittsburgh tomorrow and will be picked up by one of my team members and brought to Buckhannon," Sanders said. "She was so wonderful to say she wanted to be here for my final show. My license also doesn't end for this year until the Miss USA and Miss Teen USA national pageants, so I will still prepare these two winners to compete in the next national pageant, and when that telecast or that webcast ends, then, my license is over."