TENNERTON – It was a battle of top-six Class AAAA basketball teams when No. 2 Morgantown visited the No. 6 Buckhannon-Upshur Lady Bucs Monday night at the high school gym.
The Lady Bucs gave the Mohigans a battle but wound up ultimately dropping a 60-39 decision.
The 39 points was a season-low for the Lady Bucs offensively.
The game was closer than the final score indicated, as it was just a 35-29 contest in favor of Morgantown at the midway point of the third quarter, but a worn down B-U squad failed to score in the final six minutes of the contest as Morgantown pulled away for the win.  
"We were down six points in the third quarter; that is one possession per quarter," Buckhannon-Upshur head coach Rob Kittle said. "If we just make a play here or there we are in this game. We simply have to start believing in ourselves that we can compete with the best teams in the state. It was a six-point game in the third quarter and we still didn't play with enough confidence and played a little scared at times. Those are things that if we want to be an elite team, we can't do. Morgantown is a great team, but I hope our team understands that we can play at that level and compete. Hopefully, if we see them again down the road, it will be a different story."
The game couldn't have started any better for the Lady Bucs as they took an early 6-0 lead, getting baskets from Alyssa Abel, Gabby Parke and two free throws from Kendal Currence.
Morgantown countered with an 8-0 run that was ended by Abel putting in two free throws making it an 8-8 game.
Morgantown ended the quarter with another 8-0 run for a 16-8 advantage going into the second quarter.
After a basket by Morgantown's Lily Jordan to start the second quarter, the Lady Bucs went on a 6-0 run behind Kenna Maxwell nailing a three-pointer, Currence putting in a free throw and Abel scoring from underneath to make it an 18-14 contest with 5:29 left in the half.
Morgantown outscored B-U in those final five minutes by an 11-3 margin for a 29-17 lead at the intermission.
A lay-up by Abel left the Lady Bucs down 33-24 and a three-pointer by Shelby McDaniels trimmed the deficit down to six, at 35-29, with 4:15 showing on the third-quarter clock.
B-U couldn't get any closer in the quarter as they were outscored the rest of the stanza by a 9-4 margin leaving them down 46-33 going into the last eight minutes of action.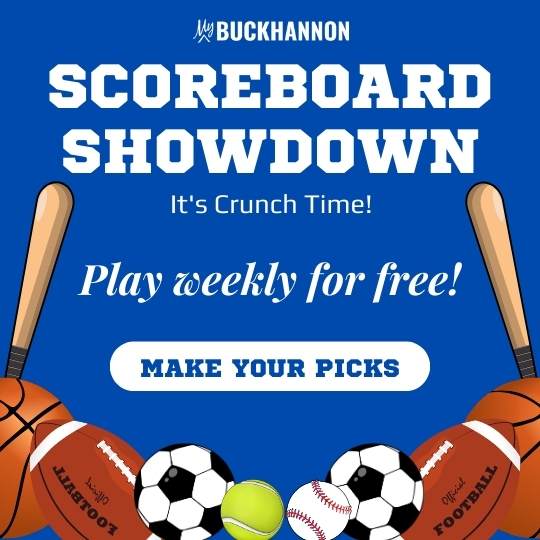 Jordan opened the final quarter for Morgantown with an inside basket putting B-U down 15, at 48-33, but McDaniels unleashed a pair of three-pointers bringing the Lady Bucs to within nine, at 48-39, with 6:30 left in the game.
It was the last point the Lady Bucs scored though as Morgantown ended the game on a 12-0 run.
Morgantown, which improved to 17-3, was led by Jordan who had a game-high 24 points.
Abel paced the Lady Bucs with 10 points, who ended their regular season with a 17-5 record.
"At times we were weak with the ball then other times we made some really strong plays, but we couldn't get some easy looks to fall," Kittle said. "It seemed like every time we missed an open look, they would hit their shot and extend their lead and swing the game back in their favor. Overall, it's frustrating, but we know we have to get better and we know we can. That is the good thing about it."
The Lady Bucs will now host a sectional tournament game next Tuesday.
Buckhannon-Upshur will host either Preston or Bridgeport in the first-round opener. They will also host the sectional championship game if they advance past the opener as they went 3-0 against sectional foes during the regular season.
Voting for the sectional/regional rankings, which will determine the tournament matchups, will take place this Tuesday.
"We had a great regular season," Kittle concluded. "Now, whoever we play, we just have to get ready for sectionals,"
The boxscore:
Morgantown 16 13 17 14 – 60
Buckhannon-Upshur 8 9 16 6 – 39
Morgantown 60
Lily Jordan 11-14 2-5 24; Sadaya Jones 4-14 1-3 11; Lindsay Bechtel 3-10 0-0 8; Kate Hawkins 3-6 0-0 7; Sofia Wassick 2-7 1-2 5; Kerrington Peasak 1-5 0-0 3; Abby Smith 0-0 2-2 2; Mia Henkins 0-3 0-0 0; Emma Howell 0-0 0-0 0; Makayla Chipps 0-0 0-0 0; Revaya Sweeney 0-1 0-0 0; Paige Smith 0-0 0-0 0. Totals 24-60 6-11 60.
Buckhannon-Upshur 39
Alyssa Abel 4-7 2-2 10; Shelby McDaniels 3-12 0-2 9; Kenna Maxwell 3-7 0-1 8; Gabby Parke 3-8 0-0 7; Kendal Currence 1-10 3-4 5; Olivia Ellis 0-0 0-0 0; Kyndal Davis 0-0 0-0 0; Brooklyn Smith 0-0 0-0 0; Rosie Shackleford 0-0 0-0 0; Casadie Lahman 0-0 0-0 0; Regina Petrokovich 0-0 0-0 0. Totals 14-44 5-9 39.
Three-point field goals – Morgantown: Jones 2-7; Bechtel 2-4; Peasack 1-4; Hawkins 1-2; Henkins 0-3; Wassick 0-3; Jordan 0-1; Sweeny 0-1. Totals 6-25; Buckhannon-Upshur: McDaniels 3-6; Maxwell 2-5; Parke 1-5; Currence 0-1. Totals 6-17.
Rebounds – Morgantown: Jones 10; team 7; Jordan 7; Bechtel 6; Hawkins 4; Peasak 3; deadball 2; Sweeney 2; Wassick 2; Henkins 1; Smith 1. Totals 45; Buckhannon-Upshur: Abel 7; McDaniels 7; Parke 7; team 2; Currence 2; deadball 2; Ellis 1; Maxwell 1. Totals 29.
Assists – Morgantown: Wassick 5; Bechtel 3; Jones 3; Jordan 1; Peasak 1. Totals 13; Buckhannon-Upshur: Parke 2; Abel 1; Currence 1; McDaniels 1; Maxwell 1. Totals 6.
Steals – Morgantown: Bechtel 3; Wassick 3; Jordan 1; Peasack 1; Smith 1. Totals 9; Buckhannon-Upshur: Maxwell 3; McDaniels 2; Parke 2; Abel 1; Currence 1; Davis 1; Ellis 1. Totals 11.
Blocked shots – Morgantown: Wassick 3; Peasack 1; Jones 1. Totals 5; Buckhannon-Upshur: Abel 1; Davis 1. Totals 2.
Turnovers – Morgantown: 15; Buckhannon-Upshur: 17.
Personal fouls – Morgantown: 12; Buckhannon-Upshur: 11.