TENNERTON – Despite a loss in the final week of the third quarter, Custom Cabinets held on for the third-quarter title of the Buckhannon Country Club Bob Cupp Memorial Golf League.
Custom Cabinets dropped an 18-14 decision Sam's Pizza but had built a big enough lead in the league to hold on for first place with 90 ½ points.
With the win, Sam's Pizza finished in a tie for second place with High Point Construction with 89 points after High Point Construction dropped a 17 ½-16 ½ verdict to Feola's Flowers.
Baker Tilly moved up to fourth place after a 21 ½-11 ½ victory over Hank Ellis Insurance.
In the other two matches of the week, UniFirst Corporation downed First Community Bank by a 20-13 ½ score and Highland Landscaping beat Lisa Cain Edward Jones by a 17-16 ½ count.
Doug Garrett of UniFirst Corporation brought home Low Actual honors with a 34 while Garrett and Rick Stocking tied for Low Net honors with 29s.
The standings, top individual performances and this week's schedule:
Standings
Team Points
1. Custom Cabinets 90 ½
2. High Point Construction 89
3. Sam's Pizza 89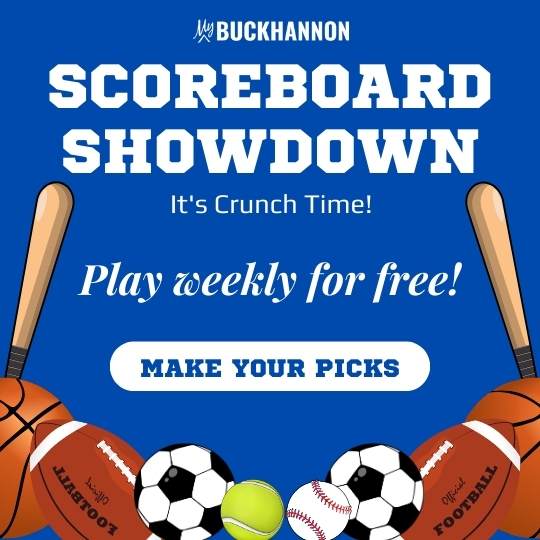 4. Baker Tilly 87
5. First Community Bank 81 ½
6. Hank Ellis Insurance 81
7. Highland Landscaping 80 ½
8. Feola's Flowers 79
9. Lisa Cain Edward Jones 75 ½
10. UniFirst Corporation 72 ½

Low Actual – Par 36
Doug Garrett, UniFirst Corporation 34
Evan Coffman, First Community Bank 35
Rick Stocking, Baker Tilly 38
Joe Hughes, Lisa Cain Edward Jones 38
Bobby Russell, Lisa Cain Edward Jones 38
Low Net – Par 36
Doug Garrett, UniFirst Corporation 29
Rick Stocking, Baker Tilly 29
Evan Coffman, First Community Bank 30
Joe Hughes, Lisa Cain Edward Jones 31
Chad Wilfong, High Point Construction 31
This Week's Schedule
Custom Cabinets vs. Baker Tilly
Lisa Cain Edward Jones vs. Sam's Pizza
Feola's Flowers vs. First Community Bank
Hank Ellis Insurance vs. High Point Construction
Highland Landscaping vs. UniFirst Corporation